Overcoming obstacles ninja team
Our team is comprised of experienced ninja athletes and passionate speakers who will add a dynamic element to your event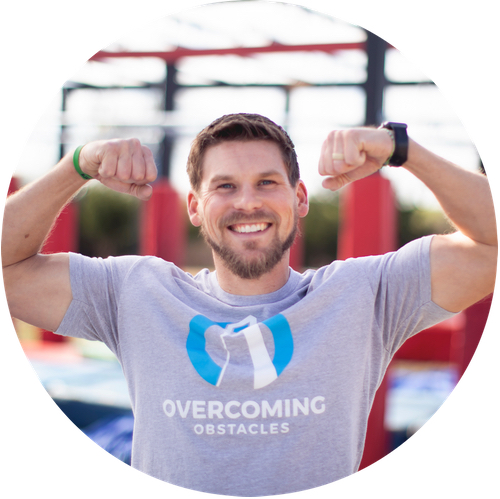 Jared Greer - Ninja Athlete & Speaker
Founder / President of Overcoming Obstacles
Jared is a former youth pastor veteran (12 years) that has also competed on American Ninja Warrior 3 times! He is married to the love of his life, Sally, and has 2 sons – Micah and Bennett. He has his BA in Christian Studies with an emphasis in Pastoral Ministry from East Texas Baptist University. He loves trying to use every opportunity to share the love of Jesus with the world. He started Overcoming Obstacles Ministries with the help of his church and friends in 2016. It became a 501c3 non-profit in 2017 and is now operating strong reaching thousands with the Gospel of Jesus Christ! Jared is based in Grandview, TX.
Kendall Ortez
Ninja Athlete
Kendall is the youngest member of our team! He brings so much energy and life to everything he does. He also beats most of us on a regular basis! Kendall has competed two times on American Ninja Warrior and has advanced to the National Finals in Las Vegas in Season 11. Kendall is a full-time Car Interior Repair Man. But in reality – Kendall is a FULL-TIME Ninja! Kendall is based in Dallas, TX, and is available to facilitate a ninja experience at your event.
Nate Burkhalter
Ninja Athlete & Speaker
Nate is the most decorated athlete of the Overcoming Obstacles team. while that is cool and all, the best part about Nate is his passion for life and his genuine spirit. He is an adventure enthusiast and loves a good adrenaline rush! He has his BA in Mechanical Engineering with a minor in Business Management from Louisiana Tech University and has competed on American Ninja Warrior 5 times! He persevered through many challenges to qualify for the finals in Las Vegas two times! In Season 11 he has his breakthrough where he BEAT Stage 1. Then he BEAT Stage 2 after battling food poisoning the ENTIRE night before the event. Nate has a God-given world class ability to speak and share his God stories with the world. In 2020 Nate had a rare opportunity to compete on a Latin American TV Show called "Exatlon." After SEVERAL obstacles, Nate ended up beating the odds and won the entire show. Nate is the first to give God glory for all of his accomplishments. Nate is based in Houston, TX.
Jon Stem
Ninja Athlete & Speaker
Jon and his wife Jen serve at Claremore Assembly of God in Claremore, Oklahoma, where they lead the youth and music ministries. He has his BA in Preaching and Evangelism from Central Bible College and an MA in Theological Studies from Assemblies of God Theological Seminary. Jon brings Overcoming Obstacles to the northern Oklahoma region! He has competed on American Ninja Warrior 2 times and World Finals for multiple ninja leagues. Even Jon's dad, Jim, has competed on American Ninja Warrior! Jon and Jen have 2 precious kids. Jon grew up in Mongolia and Alaska where his parents were full-time missionaries!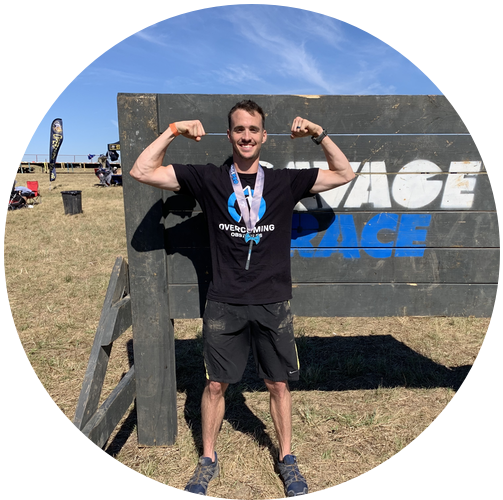 Walker Loyd
Ninja Athlete & Speaker
Walker Loyd is the endurance ninja. If people walked around with a 24v battery, Walker would have a 48v! He is fueled by fulfilling the mission God has placed in his heart to love and serve others relentlessly. Walker is married to the love of his life, Autumn. They recently welcomed their first born son Luke Loyd. Walker graduated from Tarleton State University where he earned his Masters degree in Kinesiology. Since 2016, Walker has competed in the sport of obstacle course racing as a professional athlete. He has qualified for world championships 7 times! Walker has served in various ministries for the past decade and enjoys leading events with Overcoming Obstacles. Walker is based in Grand Saline, TX.
Roger Greer
Ninja Athlete & Speaker
Roger Greer is our Road Manager. He has over 30 years experience as a pastor and Christian broadcaster, including four years as a national correspondent on 8i00 radio stations. And at age 68, he can still run up a 14 foot warped wall.
Overcoming obstacles Event partners
Overcoming Obstacles also partners with the following athletes on occasion. If you have a request for a specific athlete for your event, please let us know!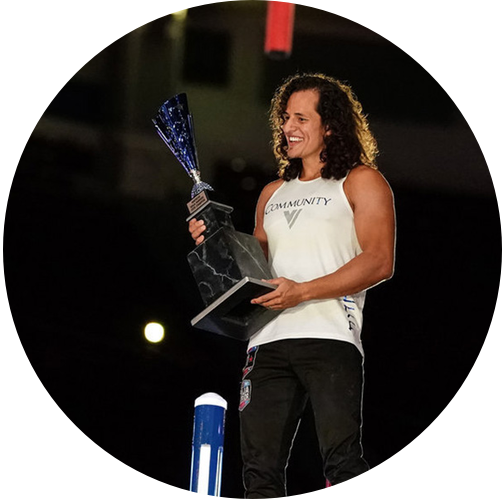 Daniel Gil
Ninja Athlete & Speaker
Daniel Gil is a professional ninja athlete. He was the winner of the 2020 season of American Ninja Warrior, and he is a consistent national finalist on the show. Daniel is a Christ-follower, motivational speaker, and worship leader. He spends his days training, traveling, competing, speaking, and teaching. Daniel hopes to inspire, challenge, and motivate people to pursue their dreams.
Sally Greer - Ministry Development Coordinator
Sally is the glue that holds this team together. She has a BA in Psychology. She has helped Jared lead in youth ministry for 12 years. Her full-time job is raising two crazy ninja boys! On top of all of that, she is an accomplished artist. Sally volunteers to serve Overcoming Obstacles in numerous ways. She mostly helps Jared keep things organized and focused on our mission. She loves to reach out to the other members of the team to help them with their spiritual and emotional health. She also helps Jared develop messages and helps discern how to communicate our vision.
Deborah Greer
Deborah Greer is our Director of External Communications. She works with church leaders to help create a successful event for everyone. She is Jared's mom and quickly becomes "Mom" to everyone at any event she gets to attend. When you meet her, you know you've met someone who will love you no matter what.
GREG FIREBAUGH
SAM BUZZARD
DAVID SELF
PAUL PAPAN